Regenerating the Earth's ecosystems around the world
Preserving natural ecosystems' health: a challenge for humankind.
Humankind is totally dependent on the health of natural ecosystems. In addition to their tremendous ability to sequester carbon, the number one natural solution for combatting global warming, healthy natural ecosystems provide humankind with many essential benefits: They contribute to economic resources, food supplies, water conservation, territorial preservation, combatting drought, and health and well-being, just to name a few. They are also the primary source of raw materials that our economy relies on.
However, these precious ecosystems are under increasing pressure from deforestation, forest degradation, intensive production patterns and the effects of climate change, with ripple effects on local populations, biodiversity, climate and raw material shortages that jeopardize the business models of many companies.
While it is obvious that preservation is necessary, planting, reforesting, and regenerating ecosystems, as widely and as reasonably as possible, is not an option, either.
1er
carbon sink on our lands, forests are the lungs of our planet.
80%
of the Earth's biodiversity on land is in forests
25%
of the world's population depends on forests
50%
of global GDP depends on nature and its ecosystem services
What does it mean to regenerate ecosystems?
The challenge is not to limit ourselves to restoration but to begin a process of regenerating ecosystems to ensure their stability over time while also ensuring their resilience to climate change.
An ecosystem's regenerative character depends on the relationships between its different features. Restoring and optimizing its constitutive features equates to ensuring that it is resilient and therefore sustainable.
Our work guarantees that each project we design and/or develop creates positive impacts for the climate, biodiversity, soils and communities, in order to ensure its regenerative nature.
The ABCs of our Action
Local stakeholders are the foundation of our model. Our goal is not to buy land or implement our projects ourselves, but rather to promote the implementation of regenerative ecosystems by optimizing project design, deployment on the ground, monitoring and long-term impact measurement.
Our action is guided by four fundamental principles.
ECOSYSTEMS' SUSTAINABILITY & MULTI-FUNCTIONALITY
The common thread running throughout our action is the optimization of land ecosystems' sustainability and multi-functionality. That is why each of our projects aims to generate impacts across all 4 pillars: Climate, Biodiversity, Soil Health and Society.
CLOSE COLLABORATION IN THE FIELD
Ecosystem regeneration is a complex set of expertise that requires an approach specific to each local environment that accounts for its biodiversity and culture. This can only be achieved in close collaboration with local communities. It is an approach where everyone benefits and learns.
MONITORING AND LONG-TERM IMPACT MEASUREMENT
Designing projects in a way that accounts for their long-term impact and following up on them over time to correlate planning and results, readjusting if necessary and constantly improving is the driving force behind our action. That is why we have a department dedicated to Research and Innovation.
SUPPORTING BUSINESS TRANSFORMATION
Providing companies with concrete and effective solutions that address both environmental and societal issues and the needs of companies to support them in their transformation and climate strategy. We believe that this is key for regenerating ecosystems.
International action
Reforest'Action designs and develops diverse types of projects worldwide, because the world is at stake and, depending on the geographic region, the benefits of reforestation are compounding. This expanded action is now possible thanks to an international network developed over more than 10 years.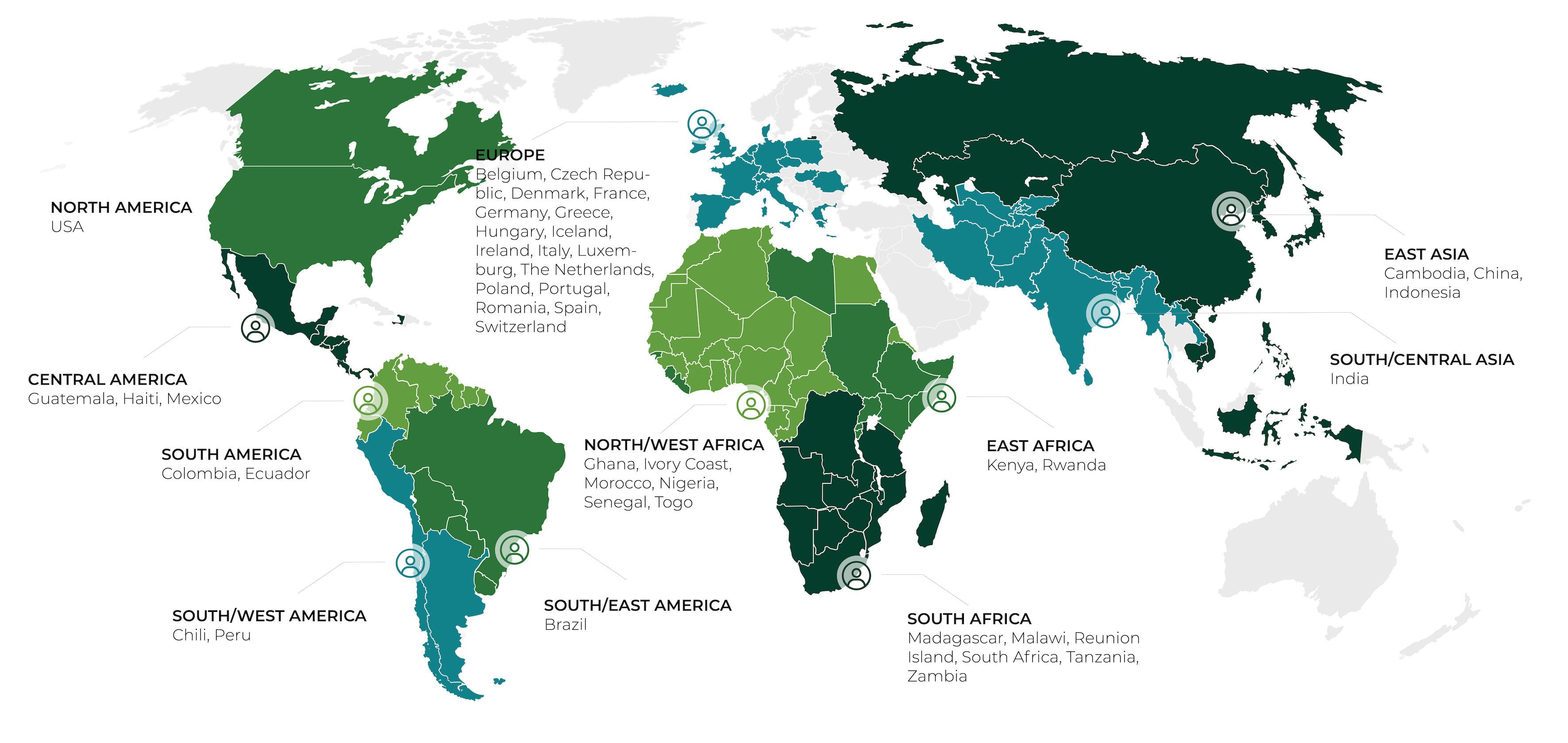 A team that is operational worldwide
Our team of Project Officers, deployed locally, strengthens our proximity with project leaders, both in the feasibility and due diligence phases and in the audit and project monitoring phases. Our personnel come from the regions the projects are in and stay present there. They are the link between our team at headquarters and the field. They use their knowledge of the local context and their network to source and implement projects. This decentralized expertise allows us to stay close to the field and respond faster.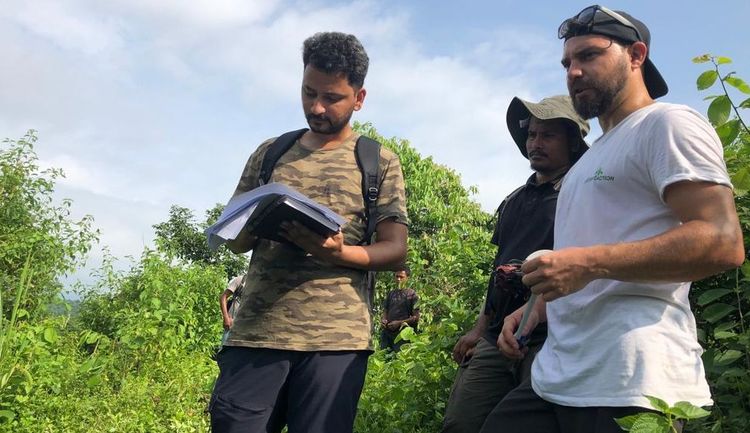 An action on all types of land.
From the protection of forest areas, to assisted natural regeneration, to planting varied and suitable species, our expertise is diversified and specific to all types of (agro)forestry ecosystems.
THE FOREST ENVIRONMENT
Preserving tropical forests and combating forest degradation in temperate climates: Forest preservation - Reforestation – Assisted natural regeneration
THE AGRICULTURAL ENVIRONMENT
Developing regenerative agriculture and regenerative landscapes: Agroforestry – Hedges – Woodland Grazing
THE COASTAL ENVIRONMENT
Preserve and Restore Mangroves that have ecosystems with an immense capacity for carbon sequestration and that play an essential role for society and the economy.
THE URBAN ENVIRONMENT
Reintroduce nature into the city by creating urban forests, true islands of biodiversity and well-being.