After 4000 trees were planted, the municipality of Baerle in the Netherlands became home to an emerging forest, populated by a variety of species.
Often, the Netherlands is referred to as the "Silicon Valley" of agriculture. As a matter of fact, the country is the second largest exporter of agricultural products in the world, after the United States, despite its limited agricultural land area. Agricultural production is one of the most intensive and mechanised worldwide, supplying 8% of European agricultural imports.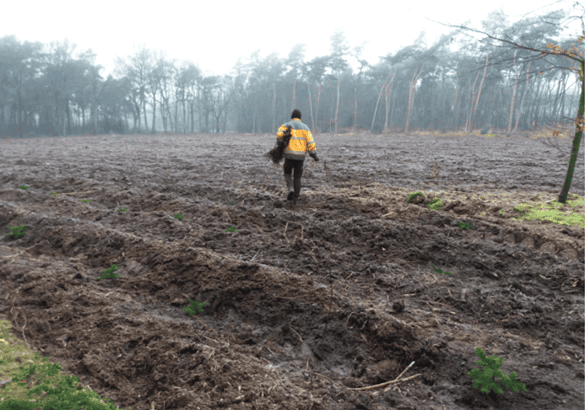 Baerle, a unique enclave
The municipality of Baerle is located in the province of North Barbados, on the border that separates the Netherlands from Belgium. Remarkably, the demarcation line that marks the separation between the two territories passes through the city! On the Belgian side, the municipality is called Baerle-Duc. On the Dutch side it is Baerle-Nassau. The area has a relatively low level of afforestation. However, a few preserved natural areas cohabit with agricultural lands. Before the beginning of the project, the area in question, formerly used for agriculture, was left uncultivated.
Extending the forest cover: a major challenge
On site, the work conducted aimed at transforming this agricultural wasteland into a forest. The objective was to increase the vegetal cover within this sparsely wooded region but also to enrich the soils, impoverished by decades of agricultural activity.
European larches, pedunculate oaks, sycamore maples, chestnut trees and Nordmann pines were thus planted for a proper forest ecosystem to emerge on the land. This approach will provide habitat for new sources of biodiversity but also allow the soil to regenerate. On the long run, this emerging forest will help combat global warming. Thanks to the diversity of the species planted, the new ecosystem will be more resilient and better able to cope with climatic hazards and biological attacks. Many thanks to the company Arval Netherlands and our Reforest'Actors for their kind support thanks to which Baerle now hosts a new forest.