Located in the north of the island of Haiti, one of the countries in the world most affected by deforestation, the project financed by Reforest'Action and led in the field by the local NGO Agrinotech aims to raise awareness and involve local communities in the implementation of agricultural practices that are more respectful of the environment and the forests. The objective: to develop agroforestry among local farmers and gradually restore the forests of the Saint-Michel de l'Attalaye region. Between February and May 2021, 290,000 tree seedlings of various species were distributed and planted in the field by the villagers.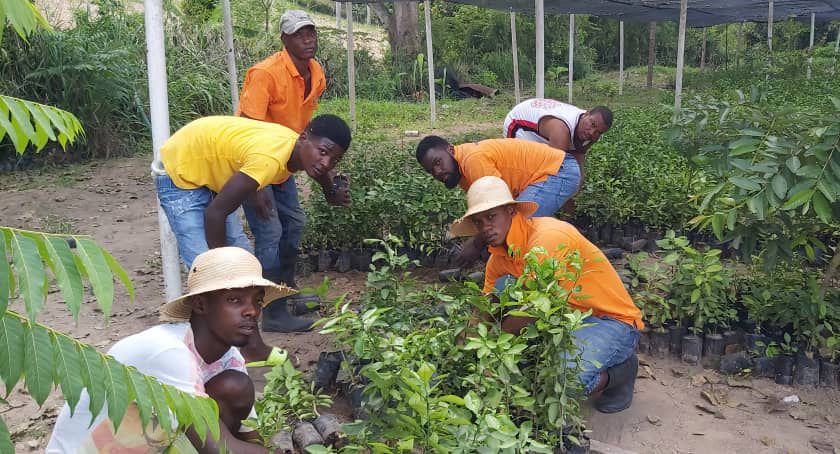 Raising awareness among local communities to better mobilize them
The last three months have been conducive for our partner Agrinotech to hold training and awareness sessions on environmental preservation, soil and forest management and fruit production from agroforestry trees. Coupled with tree distributions, these sessions aim to both mobilize local communities within the framework of the reforestation project, and to introduce them to the planting and maintenance of trees distributed within their fields and around villages in deforested areas. Schools, with their students and teachers, as well as local authorities and farmers of the region, participated with interest.
Fruit and forest tree species to recreate forests
A total of 290,000 fruit and forest trees were distributed at the end of these training sessions, particularly on May 1, the day of the agricultural festival in Haiti. Among them, flamboyants, cedars, guava trees, avocado trees, cocoa trees, mango trees, orange trees, lemon trees, cashew trees and mahogany trees, which will be used to grow food crops in farmers' fields and restore deforested areas around villages. In the nurseries, 210,000 seedlings are completing their maturation to be planted in turn in the next rainy season, starting in November 2021.