The Low Carbon Label and Reforest'Local are the two solutions for companies wishing to offset their CO2 emissions while taking action in France. What does each mechanism offer and what are the advantages that distinguish them? Deciphering.
Common purpose and different mechanics
Both of these solutions offered by Reforest'Action allow companies to act positively and willingly on their carbon footprint by offsetting it thanks to the forest. The French forestry projects stamped with the Low Carbon Label are afforestation, reforestation or improved management projects allowing, according to a reference frame and specific methodologies, to store additional carbon compared to reference period. At the same time, the Reforest'Local solution, exclusively proposed by Reforest'Action, combines certified international carbon credits from forestry projects (reforestation, conservation, etc.) with the planting of trees in France.
Carbon offsetting or contribution to the national commitment
Because it includes Verra or Gold Standard certified carbon credits, Reforest'Local is a carbon offsetting solution that meets the international standards sought by most companies, especially the major ones. Trees planted in France combined with carbon credits also generate local co-benefits, including the enhancement of biodiversity and the storage of additional carbon, which is not counted as carbon offsetting. By opting for Reforest'Local, a company officially offsets its own CO2 emissions via the certified carbon credits it acquires and generates co-benefits created by forests planted in France.
"It is now possible to combine the robustness of carbon credits that comply with international offsetting criteria with the creation of local co-benefits via the forest, as long as they are based on rigorous standards," explains Gérald Maradan, President of the International Carbon Reduction and Offset Alliance (ICROA), about Reforest'Local.
For their part, French forestry projects with the Low Carbon label are part of the French government's National Low Carbon Strategy. From this perspective, a company financing a labelled tree plantation, for example, will contribute to reducing France's national carbon footprint while receiving certified emission reductions.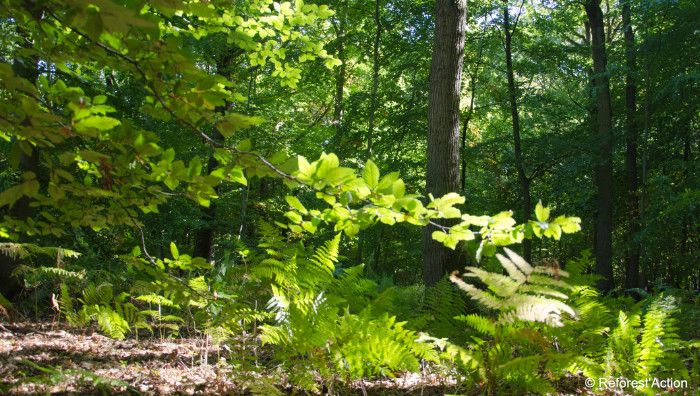 Price per ton of carbon: What are the differences?
As voluntary carbon offsetting is a market, the price per tonne of CO2 responds to fluctuations in supply and demand. The cost of a carbon credit (corresponding to one tonne of CO2eq) also differs according to the quality of each project, its size and its co-benefits, such as the development of biodiversity and local employment. For this reason, the prices of the tonne CO2eq of the Low Carbon Label and Reforest'Local differ according to the project chosen by the company.
At the same time, it should be noted that the tonne of CO2eq prices proposed by Reforest'Local are more easily degressive compared to those of the Low Carbon Label projects. Indeed, the international price of a tonne of carbon can be more easily reduced thanks to the volume effects generated by the large size of the projects worldwide. In France, the often smaller size of projects limits the potential for price reductions.
To summarize, which carbon offsetting solution should be chosen?
Each company will see, in one or the other of these solutions, important assets for its organization. For instance, non-State public actors or companies acting mainly in France may legitimately wish to turn to a forestry project with a Low Carbon label in order to contribute to the State's climate commitment. Furthermore, companies wishing to act within the framework of international standards will more easily opt for Reforest'Local.
Go further
Reforest'Action offers Low Carbon and Reforest'Local projects all over France. Our teams are at your disposal to:
advise you in your decision
identify the projects closest to your territory
support you in mobilizing your stakeholders through effective tools
jointly develop and deploy a fair and robust communication
Got a question? Contact us to find out more