Despite the ongoing pandemic, thousands of international forestry stakeholders gathered in Seoul from May 2 to 6 for the XV World Forestry Congress. Organized under the auspices of the FAO and the South Korean authorities, the largest global meeting dedicated to forests brought together members of governments, international organizations, NGOs, representatives of the private sector, research, youth and indigenous leaders for five days.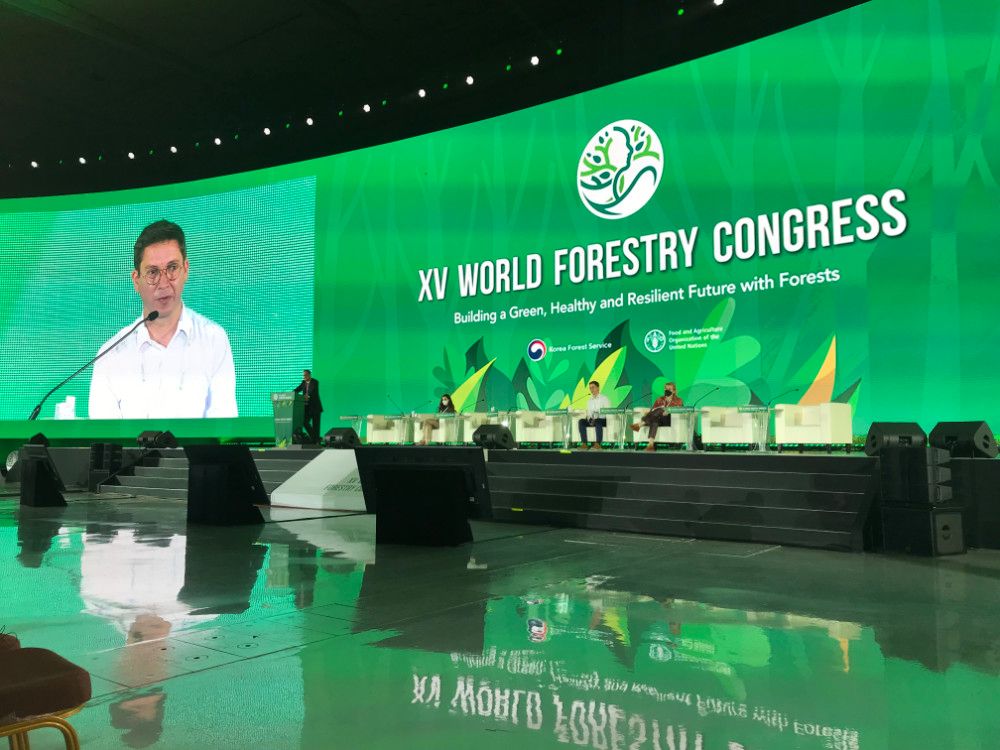 Reforest'Action speaks out alongside leaders of international forestry organizations
Present for the first time at the UN Congress, Reforest'Action contributed to the dialogue on global forest issues alongside leaders of leading forestry organizations and field actors. Stéphane Hallaire, president and founder of Reforest'Action, spoke during three sessions that brought together Tony Simons, executive director of ICRAF, Adriana Vidal, president of GPFLR and John Parrotta, president of IUFRO.
After sharing the key messages of the Global Forest Summit 2022, co-organized by Reforest'Action and the Open Diplomacy Institute, Stéphane Hallaire highlighted the enormous potential of sustainably managed forests for the development of a circular bioeconomy. "Reforest'Action contributes to the development of such an economy through concrete forest restoration projects, the Livings Labs of the Circular Bioeconomy Alliance," he said.
"We need science, market, legal systems and sobriety to develop this forest-based bioeconomy on a global scale," he added. In announcing the creation of a first fund of 200 million euros dedicated to the development of forest restoration projects around the world, the president of Reforest'Action emphasized the major role that the private sector can play, in concert with public organizations, in financing global forestry needs. He continued by reminding us that the scaling up of global forest restoration will be accelerated by the development of a generation of reforestation entrepreneurs that Reforest'Action wishes to develop.
Dialogue with stakeholders and organizations involved in restoration
The main messages delivered by Stéphane Hallaire are in line with some of those of the Seoul Declaration adopted at the end of the Congress, which calls for the acceleration and immediate extension of various key actions, such as the tripling of global forest financing by 2030.
In addition to these speeches, Reforest'Action also met during the WFC with dozens of forest actors working on different continents in favor of the protection and restoration of forest landscapes. These technical exchanges have sometimes opened the way to potential collaborations. Finally, Reforest'Action also participated in bilateral exchanges with representatives of organizations involved in forest restoration, such as CIFOR, the GPFLR or the United Nations Forum on Forests. The next WFC will be held in a few years in Istanbul. In the meantime, Reforest'Action will continue to participate in the international forestry dialogue, notably at the Global Forest Summit 2023 organized from London.